Do you know the cable seal?
Views : 1058
Update time : 2017-07-28 11:35:24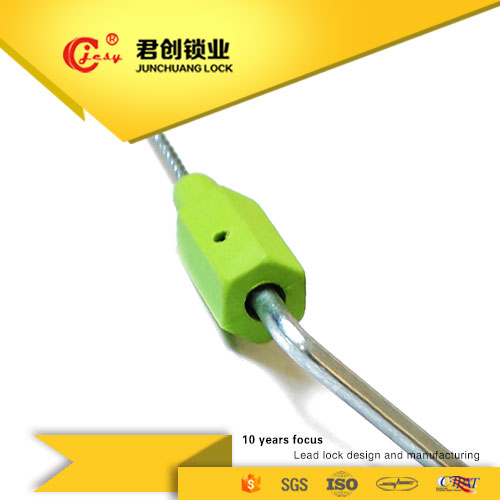 Introduction: Wire seal is a kind of electronic device for measuring device, tanker, container, logistics. Internal use of the world's only code FRID chip, with anti-counterfeiting function, mainly used in containers, container trucks, trucks, boxes, to prevent man-made damage and open.
Material: lock: zinc compression shaft parts;
Outsourcing: ABS Steel wire: aviation wire rope
Features: Wire diameter: 1.8mm Total length: 225mm, length can be customized according to customer requirements Sunscreen, anti-corrosion oil Tight type structure, easy to install


Parameters:
(a)appearance parameters:
1. Seal the shell with PS transparent plastic. Self-locking inserts are made of colored ABS plastic and embedded stainless steel shrapnel. The RFID chip is encapsulated in an epoxy resin.
2. Dimension Length × width × thickness (L * W * H) ≤ 24mm * 18mm * 9mm
3. Locking wire: Section size ¢: ¢ ≤ 0.65mm.


Wire length L: 10 mm ≤ L ≤ 20 mm.
Tensile strength F: F ≥ 20 kg force. Steel wire surface plastic.
(b)RFID chip parameters: Implementation of standards: compatible with ISO18000, 2-2004
Operating frequency: 100-150kHz Operating voltage: 3.5V-5V Static breakdown voltage Typical value: 2000V
Encoding length: 64-bit binary encoding Readable code length: 10 decimal code Reading distance: 20 ~ 100mm

The shortest reading and writing time: ≤100ms (read only) Read and write times: 100,000 times or more (read only) Antenna
Material: Copper Power Features: Passive Read and write features: non-contact, passive, read-only, non-directional.
Read the code success rate: ≥ 99%.
Security: Data is unique
(c), bar code label parameters: Bar code system: EAN / UCC-128 code Standard: GB15425 Trade Unit 128 bar code